Sergeja Saveļjeva dzeja un Arņa Miltiņa mūzika koncertprogrammā "Divi skatieni"
Anete Pitena, 30.12.2015., 16:07
Zvaigznes dienā 7. janvārī plkst. 19.00 kultūras pils "Ziemeļblāzma" aicina uz emocionālu koncertprogrammu, kuras pamatā ir mūziķa Arņa Miltiņa dziesmas ar dzejnieka Sergeja Saveļjeva vārdiem.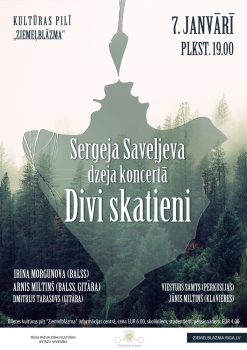 Dzejnieks Sergejs Saveļjevs kopš bērnības veselības stāvokļa dēļ ir spiests pārvietoties ratiņkrēslā. Viņa vienkāršie, emocionālie, ar personisko pārdzīvojumu piesātinātie dzejoļi uzrunāja mūziķi Arni Miltiņu un abu radošo personību sadarbībā 2007. gadā tika radīts dziesmu cikls "Divi skatieni". Pēc dziesmu pirmatskaņojuma koncertzālē "Ave Sol", abi autori tika nominēti Rīgas domes gada balvai "Rīgas labā zvaigzne 2007".
Kopā ar dziesmu autoriem Arni Miltiņu (ģitāra, balss) un Sergeju Saveļjevu (dzejas lasījumi) koncertā muzicēs Irina Morgunova (balss), Dmitrijs Tarasovs (ģitāra), Viesturs Samts (perkusijas), Jānis Miltiņš (klavieres).
Biļetes kultūras pils "Ziemeļblāzma" informācijas centrā, cena EUR 6.00, skolēniem, studentiem, pensionāriem EUR 4.00.
uz ziņu sarakstu
Par HC.LV
HC.LV lietotājiem
Seko jaunumiem
HC.LV valodas
Citas saites
Aktualitātes forumā
Padalies priekā
Hi <a href="https://getaloan.us.org/"> instant payday loans</a> bad credit auto loans [url=https://getaloan.us.org/] online loans[/url] OK'
GnaAsync
baby changing pad reviews <a href=https://fb.me/mattresscoupon>pop over to this website</a> sleep natural mattress reviews <a href="https://www.facebook.com/mattresscoupon/">Our site</a>
Agustinnoiny
Hello. And Bye.
XRumerTest