Koncertcikls "Iededz gaismu" turpinās ar koncertu "Vecā gada noskaņās"
Anna Paula Pujēna, 29.12.2015., 17:51
Koncertcikla "Iededz gaismu" nākamais koncerts "Vecā gada noskaņās" notiks jau trešdien, 30. decembrī, plkst. 18.00 "Promenade Hotel" Hika zālē kopā ar čellistu Ivaru Bezprozanovu un pianisti Lienu Circeni.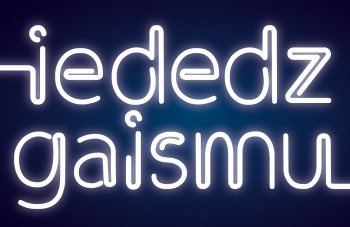 Trešdien, 30. decembrī, plkst. 18.00 Hika zālē koncertcikla rīkotāji ielūdz ikkatru aizvadīt gada pirmspēdējo dienu pārdomās par aizvadīto gadu koncertā "Vecā gada noskaņās", kurā dzirdēsim plašu programmu ar skaņdarbiem no baroka un romantisma līdz impresionismam.
Ivars Bezprozvanovs ir Latvijas Nacionālās operas orķestra čellu grupas koncertmeistars, "Nordic symphony orchestra" čellists, Emīla Dārziņa mūzikas vidusskolas čella spēles un ansambļa pasniedzējs, kā arī Liepājas Simfonsikā orķestra čellists. Viņš daudz koncertē Latvijā un ārzemēs gan soloprogrammās, gan kameransambļos. Muzicējis kopā ar daudziem domubiedriem, tajā skaitā, pianisti Lieni Circeni.
Liene Circene ir ieguvusi Lielo mūzikas balvu un uzvarējusi vairākos starptautiskos konkursos. Viņa ir uzstājusies kopā ar Latvijas Nacionālo simfonisko orķestri, Liepājas simfonisko orķestri, Varšavas filharmonisko orķestri un citiem. Trīs gadus dzīvojusi Francijā, patlaban viņas dzīvesvieta ir Sigulda. Viņa māca klavierspēli studijā Rīgā un Siguldas mūzikas skolā.
Koncerta "Vecā gada noskaņās" programmā dzirdēsim baroka dižgara Johana Sebastiana Baha (1685-1750), romantistu Fēliksa Mendelszona (1809-1847), Kārļa Marijas Vēbera (1786-1826) un Pētera Čaikovska (1840-1893) darbus. Tāpat koncertā izskanēs izcilā krievu komponista Dimitrija Šostakoviča (1906-1975), franču komponistu Gabriela Forē (1845-1924), Morisa Ravēla (1875-1937) un Žaka Ibēra (1890-1962) darbus. Programmā būs dzirdami arī mūsu pašu komponistu skaņdarbi. Starp tiem – Jēkaba Mediņa (1885-1971), Jāņa Ķepīša (1908-1989), Pētera Plakida (1947) un jaunā mūziķa un, starp citu, televīzijas un radio žurnālista Edgara Ragisnka (1984) darbi.
Tālāk koncertcikls turpināsies ar trim brīnišķīgiem koncertiem Liepājas jaunās koncertzāles "Lielais dzintars" kamerzālē. 10. janvārī plkst. 18.30 tur dzirdēsim koncertprogrammu "Orlando teiksmainā dzīve" ar Sergeju Jēgeru, Jolantu Strikaiti-Lapiņu un Baroka kameransambli, 23. janvārī Rīgas saksofonu kvartets un soprāne Kristīne Gailīte koncertā "Dziedinošais lietus" un 13. februārī "Liepājas trio 15 gadu jubilejas koncerts" ar Ditu Baronu, Beatu Zariņu-Blaščinsku un Līnu Andrejevu.
Koncerti rīkoti sadarbībā ar Valsts Kultūrkapitāla fondu, Liepājas Kultūras pārvaldi, viesnīcu "Promenade Hotel" un koncertzāli "Lielais dzintars".
Biļetes uz koncertcikla "Iededz gaismu" koncertiem nopērkamas "Biļešu paradīzes" kasēs un interneta vietnē bilesuparadize.lv. Skolēniem, studentiem un pensionāriem ir atlaides. Bērniem līdz 7 gadu vecumam, neaizņemot sēdvietu, ieeja koncertos ir bez maksas.
Plašāka informācija par koncertciklu atrodama organizācijas "Via Cultura" mājaslapā viacultura.lv.
uz ziņu sarakstu
Par HC.LV
HC.LV lietotājiem
Seko jaunumiem
HC.LV valodas
Citas saites
Aktualitātes forumā
Padalies priekā
Yes! Finally something about tilt and turn windows disadvantages (https://zarulim.com.ua/user/TristanIrvin24/) and turn windows problems.
Irving
This post provides clear idea in favor of the new viewers of blogging, that actually how to do blogging and site-building. Take a look at my webpage :: vape pen kit uk (https://tinyurl.com/bestvapepenstarterkituk97250)
Evelyne
where to buy viagra in canada <a href="https://canadianpharmacy-usx.com/organic.htm">buy viagraa</a> buy viagra australia https://canadianpharmacy-usx.com/organic.htm - viagra pills 90 '
FbgTrefs