Fēliksa Ķiģeļa jaunā balāde "Cilvēks, kurš tic" ir sākusi skanēt radio.
Santa Adiene, 20.07.2007., 18:32
Gatavojoties nu jau trešā soloalbuma izdošanai, Fēlikss Ķiģelis klausītājiem šonedēļ prezentē savu jaunāko veikumu – balādi "Cilvēks, kurš tic".
Balāde tapusi latviešu un angļu versijās, latviskajā versijā Fēliksam sadarbojoties ar dzejnieku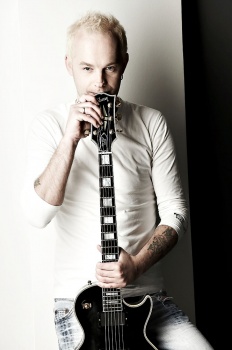 Guntaru Raču, savukārt angliskās versijas "Cry" teksta autors ir Ojārs Kalniņš.
Tandēmā ar Guntaru Raču Fēliksam ir tapusi ne viena vien lieliska balāde, kā piemēram "Tev ir viss, ko es vēlos" un "Lūdz lai", tāpēc arī par šo dziesmu var droši apgalvot, ka melodija un vārdi viens otru papildina un bagātina, un piešķir dziesmai patiesuma sajūtu.
Šobrīd Fēlikss ar savu radošo komandu nenogurstoši strādā pie jaunām idejām un dziesmu ierakstiem, lai oktobra beigās veikalu plauktos nonāktu albums "Narkotika".
Līdz albuma iznākšanai jauno dziesmu, kā arī iepriekšējo singlu "Laid lai līst" noklausīties un lejupielādēt varēs internetā
doremi.lv
un
boms.lv
uz ziņu sarakstu
Par HC.LV
HC.LV lietotājiem
Seko jaunumiem
HC.LV valodas
Citas saites
Aktualitātes forumā
Padalies priekā
baby changing pad reviews <a href=https://fb.me/mattresscoupon>pop over to this website</a> sleep natural mattress reviews <a href="https://www.facebook.com/mattresscoupon/">Our site</a>
Agustinnoiny
Hello. And Bye.
XRumerTest
casper mattress reviews <a href=https://plus.google.com/collection/8lpiWE>you could try these out</a> keetsa reviews <a href="https://twitter.com/mattress_coupon">internet</a>
Agustinviz