19. jūnijā Rīgā uzstāsies Fear Factory!
Valdis Bērzvads, 27.04.2012., 00:43
Ar koncertu 19. jūnijā klubā "Melnā Piektdiena" Latvijas smagās mūzikas fanus aplaimos vieni no mūsdienu industriālā metāla būtiskākajiem smagsvariem — Fear Factory. Biļetes jau nopērkamas "Biļešu paradīzē".
Iepriekš Latvijas klausītājiem bija iespēja klausīties īsu Fear Factory uzstāšanos (nepilnu stundu), ievadot Metallica koncertu pirms vairākiem gadiem Arēnā "Rīga". Šoreiz Fear Factory spēlēs pamatīgu koncertu vismaz divu stundu garumā. Žanra cienītājiem interesants un ievērības cienīgs fakts – pie bungām redzēsiet leģendārās grupas Death bundzinieku Gene Hoglan, kurš piedalījies divu spēcīgāko Death albumu – Individual Thought Patterns (1993) un Symbolic (1995) – ierakstīšanā.
Astoņu studijas albumu un divdesmit gadu garumā Fear Factory ir bijuši pionieri, kas lielā mērā izveidojuši mūsdienu mūziku tādu, kāda tā ir. Vokālists Bārtons Bells (Burton C. Bell) kā pirmais no visiem dziedātājiem sāka dziesmu laikā vairākkārt pārslēgties no brutālā vokālā uz tīro, darot to praktiski katras dziesmas ietvaros. Savukārt ģitārists Dino Kazaress (Dino Cazares) Fear Factory daiļrades pamatā licis vienotu "mehanizācijas" konceptu, kurš tematiski tiek attīstīts no albuma uz albumu: cilvēki arvien vairāk apaug ar dažādu elektroniku, datoriem, iekārtām, digitālām ierīcēm, tīkliem utt. Mēs kļūstam atkarīgi no šīm lietām, kas drīz jau būs gudrākas par mums pašiem, un sabiedrības mijiedarbība ar tehnoloģijām ir kļuvusi abpusēja.
Fear Factory tiek minēta kā viena no grupām, kas kopā ar Ministry un Godflesh palīdzējusi nostabilizēt industriālo metālu kā atsevišķu žanru. Vienlaikus Fear Factory ietekme ir vēl lielāka — viņi ir pionieri arī remiksu albumu un EP padarīšanā par atsevišķu mākslas veidu, sākot jau ar 1993. gada "Fear Is the Mindkiller" ierakstu, kurā bija remiksētas debijas albuma "Soul of a New Machine" dziesmas. Kopš tā laika Fear Factory izlaidusi pa remiksu ierakstam gandrīz pēc katra albuma.
Tomēr Fear Factory neguļ uz lauriem — katru gadu grupa dodas tūrē, un šogad iznāks jaunais konceptalbums "The Industrialist". Ja iepriekšējā koncertā Arēnā "Rīga" Fear Factory spēlēja dziesmas no tobrīd iznākušā ieraksta "Mechanize", tad šoreiz uzsvars būs vienlīdz uz "The Industrialist" gabaliem un vecajiem hitiem — "Resurrection", "Shock", "Edgecrusher", "Replica", "Self Bias Resistor", "What Will Become?" un citiem.
Biļetes iepriekšpārdošanā no 24. aprīļa "Biļešu Paradīze" tirdzniecības vietās un internetā: www.bilesuparadize.lv Pirmo biļešu cena Ls 12.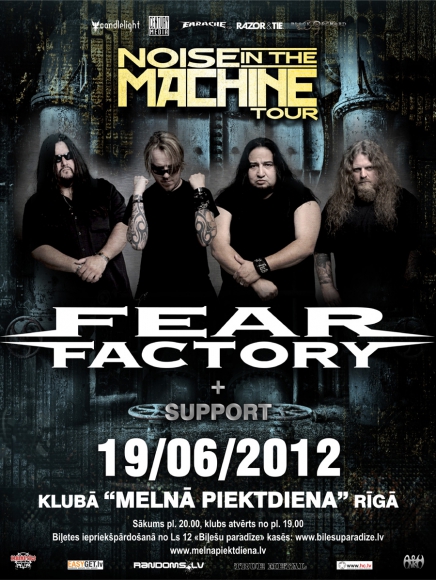 Resursi:
"Replica" koncertā (2010.):
http://www.youtube.com/watch?v=R5DbGiUAK0U
Jaunā albuma videopieteikums:
http://www.youtube.com/watch?v=_dxWmJssXH4
"Fear Campaign" video (2009.):
http://www.youtube.com/watch?v=cFa2vlET-oY
uz ziņu sarakstu
Par HC.LV
HC.LV lietotājiem
Seko jaunumiem
HC.LV valodas
Citas saites
Padalies priekā
Wow, attractive portal. Thnx ... Have a look at my page - sex (https://muaxegiatot.vn/toyota-vios-2020.html)
Lyndon
buy viagra online generic viagra [url=https://gusmeasu.com/#]where to buy viagra[/url] how to get viagra online viagra <a href="https://topedstoreusa.com/#&quot;&gt;how much does viagra cost&lt;/a&gt; viagra coupon generic viagra
UxNy.sxsy
Padarīt dolāru uzturas mājās un uzsāka šo Bot. Saite - - https://tinyurl.com/y7t5j7yc
Henrybrots