"Brīnumskaistā Francija"
Nataļja Sujunšalijeva, 29.12.2015., 17:35
Otrdien, 2016. gada 5. janvārī, plkst. 17.30 Romana Sutas un Aleksandras Beļcovas muzejs (Elizabetes ielā 57a, dz. 26, Rīgā) aicina uz otro mākslas vēstures pēcpusdienu "Modernisma laboratorija", kurā ar stāstījumu par "Art Deco" laikmetu un brīnumskaisto Franciju viesosies A. Puškina Valsts tēlotājas mākslas muzeja 19.–20. gadsimta franču glezniecības kolekcijas kurators, mākslas zinātņu doktors Aleksejs Petuhovs (Maskava).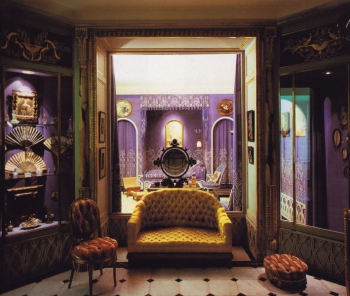 Turpinot lekciju ciklu "Art Deco. Laikmets. Māksla. Dzīvesveids", 5. janvārī Romana Sutas un Aleksandras Beļcovas muzejs piedāvā nākamo tikšanos ar erudīto mākslas zinātnieku, izcilo pētnieku un stāstnieku, A. Puškina Valsts tēlotājas mākslas muzeja Maskavā 19.–20. gadsimta franču glezniecības kolekcijas glabātāju Dr. art. Alekseju Petuhovu (Алексей Петухов). Otrajā lekcijā ar tēlainu nosaukumu "Brīnumskaistā Francija" būs iespēja uzzināt par franču mākslinieku-dekoratoru darbiem, kas tapa 20. gadsimta 10.–20. gadu mijā valsts protežētā "mūsdienīgā stila" – agrīnā "Art Deco" estētikā.
Nodarbības sākumā tiks sniegts t.s. "jaunā franču stila" raksturojums, apskatīta šīs parādības būtība, piemēram, analizējot "Franču mākslu kompānijas" veikumu, aplūkoti tās izplatīšanas mehānismi, kur noteicoša loma bija mākslas interjeru darbnīcu aktivitātei lielākajos Parīzes universālveikalos.
Lekcijas turpinājumā Aleksejs Petuhovs iepazīstinās klausītājus ar "Art Deco" personībām, izceļot laikmeta spilgtākos pārstāvjus Francijā. Tiks ieskicēti tādu izcilu meistaru portreti kā mākslas mēbeļu un interjeru veidotāji Žaks Emīls Rūlmans (Jacques-Émile Ruhlmann) un Armāns Albērs Rato (Armand Albert Rateau), metāla apstrādes meistars Edgārs Brants (Edgar Brandt), stikla mākslinieki Moriss Marino (Maurice Marinot) un Renē Laliks (René Lalique), lakas izstrādājumu dizaineri Žans Anrī Dināns (Jean Henri Dunant, Šveice), Eilīna Greja (Eileen Gray, Īrija), Pjērs Šaro (Pierre Chareau, Francija) un Pjērs Legrēns (Pierre Legrain, Francija). Katra minētā autora daiļradē oriģinālais rokraksts un radošā pieeja materiālam veiksmīgi apvienojās ar "Art Deco" stilam raksturīgajām iezīmēm un kvalitātēm.
"Modernisma laboratorija" ikvienam kļūs par neparastu ceļojumu kultūras vēsturē, aizraujošu jaunā iepazīšanas procesu, kurā piedalīties aicinām arī Jūs!
Lekcija notiks krievu valodā bez tulkojuma. Vienas lekcijas cena: pieaugušiem – EUR 3,00; skolēniem, studentiem, senioriem – EUR 1,50. Pasākuma ietvaros apmeklētājiem ir iespēja apskatīt muzeja pastāvīgo ekspozīciju un aktuālo izstādi. Interesentus lūdzam pieteikties iepriekš, zvanot pa tālruni (+371) 67 288800 vai rakstot uz e-pastu sbm@lnmm.lv. Vietu skaits ir ierobežots.
Mākslas zinātņu doktors Aleksejs Petuhovs (Алексей Петухов) 1999. gadā absolvējis M. V. Lomonosova Maskavas Valsts universitāti, 2003. gadā aizstāvējis disertāciju "Art Deco un Francijas mākslas dzīve". Šī tēma un viss ar to saistītais ir Petuhova specializācijas lauks. Pētnieka zinātnisko interešu lokā atrodas arī 1890.–1940. gadu ASV, Krievijas, Austrum- un Centrāleiropas māksla un kultūra. Jau 15 gadus Aleksejs Petuhovs strādā par vecāko zinātnisko darbinieku A. Puškina Valsts tēlotājas mākslas muzejā Maskavā un ir jaunās franču mākslas kolekcijas (bijušās Sergeja Ščukina un Ivana Morozova kolekcijas) kurators. Zinātnieks nopietni interesējas par Latvijas starpkaru laika mākslu, kultūru un vēsturi. Regulāri apmeklē Rīgu kopā ar savu ģimeni.
Romana Sutas un Aleksandras Beļcovas muzeja piedāvātais pasākumu cikls "Modernisma laboratorija" aicina uz viedokļu apmaiņu un sarunām par Latvijas un Eiropas modernismu. Programma veidota kā diezgan neformāla pēcpusdiena ar priekšlasījumiem un tiem sekojošām diskusijām, kas pulcētu dažādu kultūras jomu profesionāļus, studentus un citus interesentus. Ar vakara referātiem "Modernisma laboratorijā" viesosies pētnieki, tai skaitā arī jaunie un topošie speciālisti, kuri strādā pie tēmām, kas saistītas ar 20. gadsimta 20.–30. gadu vizuālo un lietišķo mākslu, teātri, operu, mūziku, kino, mākslas teoriju utt.
"Modernisma laboratorijas" jauno sezonu vada īpašais viesis – A. Puškina Valsts tēlotājas mākslas muzeja Maskavā 19.–20. gadsimta franču glezniecības kolekcijas glabātājs Dr. art. Aleksejs Petuhovs. Pētnieks sagatavojis septiņu lekciju ciklu "Art Deco. Laikmets. Māksla. Dzīvesveids", daudzpusīgi aplūkojot vienu no interesantākajām 20. gadsimta pirmās puses kultūras un mākslas parādībām – stilu "Art Deco", kā arī pievēršoties citiem starpkaru perioda kultūras fenomeniem Eiropā.
1920.–1930. gados "Art Deco" kā stilistiskā kopība ieņēma centrālo vietu sociālo un mākslas koordināšu sistēmā, kļūstot par visnotaļ atšķirīgu lietišķās un tēlotājmākslas virzienu krustojuma punktu un reizē – par ieganstu to apvienojumam. "Art Deco" unikālās īpašības – universālā stilistiskā un sociālā mobilitāte, atvērtība un elastība daudzveidīgu avotu interpretācijā, visaptveroša tieksme pēc sintēzes – noteica tā misiju: būt par "brīvās saskarsmes valodas" nesēju visas pasaules cilvēkiem pirmskara laikā. Šis kurss ir pirmais mēģinājums izvērsti analizēt "Art Deco" stilu vienota lekciju cikla ietvaros. Nodarbībās secīgi tiks aplūkota "Art Deco" attīstība un īpašības, iepazīts tā "veiksmes stāsts" no inspirācijas avotiem līdz "renesansei" 20. gadsimta otrajā pusē, sniegts pilnvērtīgs priekšstats par arhitektūras pieminekļiem, glezniecības, tēlniecības un grafikas mākslas darbiem, mēbeļu, stikla un metāla priekšmetiem, modi, interjeru un izstāžu ansambļiem, kas ilustrē "Art Deco" stilistiskās kopības ideju.
uz ziņu sarakstu
Par HC.LV
HC.LV lietotājiem
Seko jaunumiem
HC.LV valodas
Citas saites
Aktualitātes forumā
Padalies priekā
Sgwyejd rob.lulis@developers.com :
Fwfqgng
Awguefj davidm@them.com :
Ssphujs
Iwbtqwt davidm@them.com :
Yyrrvlc