Zelts, dimanti un urāns atrodami Latvijā
Deniss Fedotovs (deni2s), 24.12.2007., 23:39
Vai zinājāt, ka Latvijā ir iespējams atrast gan zeltu, gan urānu, gan dimantus? Daudzi to nezina.
Arī es to biju dzirdējis tikai pa ausu galam. Taču, tā kā man patīk piedalīties dažādās derībās, tad nācās ievākt ticamāku informāciju. Varbūt kādam šie apkopotie fakti par iespējām Latvijā atrast zeltu, dimantus un urānu būs interesanti.

Zelts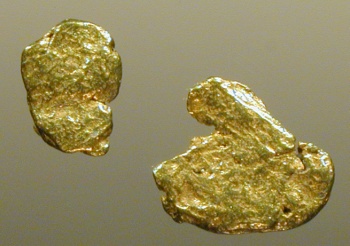 ""Toties varu ar lepnumu pastāstīt, ka esam atraduši piecus zelta gabaliņus!" turpina V. Hodireva. "Tie gan ir niecīgi - smilšu graudiņu lielumā. Un tā kā tie atrasti sanesumu iežos - morēnās -, visticamāk tie atnesti no kaut kurienes Skandināvijā. Tāpēc arī nav ilūziju, ka Latvijā varētu būt zelta atradnes.""

"Urbumos pie Limbažiem un Staicelē 600–700 metru dziļumā var atrast minerālus, kas liecina par svina, cinka un vara klātbūtni. Tomēr arī šo izrakteņu iegūšana neatmaksājas, jo tie atrodas dziļi un koncentrācija nav liela. Spektrālā analīze parāda arī zelta klātbūtni, bet šis zelts pat nav saredzams, tie ir tikai zelta putekļi. Latvijas zemes dzīlēs mēs varam atrast gandrīz visu Mendeļejeva tabulu, taču tas vēl nenozīmē, ka visu var vai ir vērts iegūt."

"Arī zelts Latvijā ir. Tas atklāts vairākos 100–200 metru dziļurbumos, taču metāla koncentrācija 0,008 grami uz tonnu iežu padara tā ieguvi par absolūti neizdevīgu. Padomju laikā ģeologi gan atklājuši zeltu graudiņus vairāku Kurzemes upju smiltīs, skalojot tās ar Klondaikas zeltraču metodi — parastu bļodu. Tomēr, ņemot vērā, ka Latvijai tuvākās, lai arī visai nelielas, zelta raktuves ir tikai Skandināvijā, mūsu valsts zelta drudzi diez vai pieredzēs."
Dimanti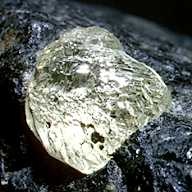 "Tagad ir zināms, ka Zemes kodolam nav regulāra forma. Tādēļ tas Kosmosa ķermeņu iedarbības dēļ noteiktās vietās, kas sakrīt ar minētā kārtībā Zemes diametrā nosacīti vilkto šķēlumu regulāro sešstūru virsotnēm, piesitas Zemes garozai, ka šajās vietās ir atrodami dimanti. Šo dimantu meklēšanas metodi noteica jakutu zinātnieki un plaši izmanto atklājumu vietu noteikšanai. Tāpēc visai nesen jakutu zinātnieki darīja mums zināmu, ka tāda vieta atrodas arī Latvijā, ka viņi būtu ar mieru uzsākt kopīgus zinātniskos pētījumus."
"Eirāzijas baltu civilizācija"
"Viens no pašmāju ģeologu eksotiskākajiem sapņiem ir par dimantu atrašanu Latvijas teritorijā. Latvija atrodas uz Austrumeiropas platformas, kas tiek uzskatīta par perspektīvu jaunu dimanta atradņu provinci. Vairākās vietās uz tās - Somijā un Krievijā (Arhangeļskā) - jau notiek dimantu ieguve. "Dimantus neviens Latvijā nav redzējis, taču ir atrasti minerāli pavadoņi," stāsta V. Hodireva. "Perspektīvākie rajoni, kur varētu atrast tā sauktās kimberlītu piltuves - dimantu koncentrācijas vietas - ir starp Ventas un Abavas upi Dienvidkurzemē. Pagaidām meklējumi bijuši neveiksmīgi, bet jācer, ka nākotnē, attīstoties meklēšanas metodēm, mums tas tiešām izdosies".

Dimantu pavadoņminerāli tikuši atrasti Ketleru atsegumā pie Ventas, pie Paksītes un Cieceres upes, kā arī Abavas ielejas smilšakmeņu atsegumos Imulas un Amulas grīvas rajonā."

...

"Ģeoloģijas paradokss: dimantus, ko Latvijā neviens nav redzējis, speciālisti uzskata par perspektīviem, bet zeltu, kas tiešām atrasts, - par neperspektīvu!"

"Latvijā pagaidām nav atrasts neviens dimanta grauds, bet ir atrasti visi tā dēvētie pavadoņminerāli, kas rodas līdzīgos apstākļos pie liela spiediena un ļoti dziļi zemes dzīlēs. Mēs īsti nezinām, bet domājam, ka tie varētu atrasties dzīlēs kliedņu veidā – ļoti sen, varbūt devonā vai karbonā, ir bijis sprādziens no zemes dzīlēm, un jūra, kas vēlāk nāca pāri Latvijas teritorijai, pārskaloja šos veidojumus un izkliedēja tos smilšakmeņos. Latvijas teritoriju daudzviet šķērso lūzumi, un, piemēram, Valmieras apkārtnē tie atrodas tuvu zemes virskārtai un ir tikai dažu desmitu metru dziļumā. Arī tur varētu būt, ka ultrabaziskā magma liela spiediena ietekmē ir cēlusies uz augšu, bijis vienreizējs sprādziens, un ieži, ko sauc par kimberlītu jeb zilajiem māliem, ir izsviesti apkārtnē. Tajos varētu atrasties viss zināmais šādu iežu komplekts, tajā skaitā arī dimanti. Šo sprādziena piltuvju diametrs parasti ir ļoti mazs, tādēļ ģeoloģiski meklēt šajās vietās dimantus ir tas pats, kas meklēt adatu siena kaudzē. Var meklēt ar kosmisko uzņēmumu palīdzību, bet, ja tādas vietas Latvijā būtu plašas, tad tās jau sen būtu atšifrētas. Zinātniskā valodā to sauc par aerokosmisko dešifrēšanu. Pēc krāsas, upju konfigurācijas izmaiņām un vēl citām pazīmēm var noteikt, kur atrodas lūzumi."
"Mūsu ģeologi jau pirms divdesmit gadiem bija pārliecināti, ka ir teorētiska iespēja Latvijā atrast dimanta iegulas, taču līdz šim brīdim tas vēl nav izdevies. Kā šāds uzskats radies? Dimantus parasti atrod tā sauktajās kimberlīta piltuvēs — vietās, kur pirms miljoniem gadu zemes garozā notikuši grandiozi sprādzieni, kuru dēļ šķidrā magma nonākusi līdz zemes virspusei. Spiediena un temperatūras ietekmē tad arī veidojas dimanta kristāli. Šāda sprādziena zona šķērso Latviju no Liepājas līdz Alūksnei un stiepjas līdz pat Arhangeļskai, kur dimanti jau atrasti. Latvijā ir uzieti parastie dimantu blakus ieži — piropi un olivīni, turklāt Latvijā zināmas arī vairākas vietas, kur ir spēcīgas magnētiskās anomālijas, kas arī raksturīgas dimantu piltuvēm. Vairākas šādas vietas ar urbumiem ir izpētītas, taču anomāliju avots izrādījies dzelzi saturoši minerāli."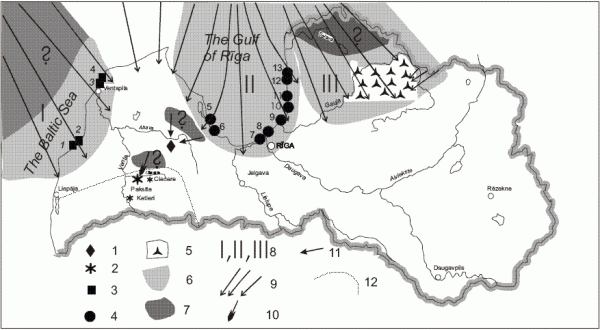 Kimberlītisko minerālu uzplatības un iespējamo kimberlītu izplatības Latvijā shēma.

1 - kimberlītu minerālu Ogres formācijā vietas. 2 - kimberlītu minerālu Ketleru formācijā vietas. 3 - Baltijas jūras pludmales, kuras satur kimberlītu minerālus (1 - Ulmale, 2 - Labrags, 3 - Staldzene, 4 - Liepene), Rīgas jūras līča pludmales, kuras satur kimberlītu minerālus (5 - Engure, 6 - Ķesterciems, 7 - Buļļusala, 8 - Mangaļsala, 9 - Gauja, 10 - Timmāji, 11 - Korbiņi, 12 - Ķurmrags, 13 - Ežurga), 5 - Gaujas kreiso pieteku reģions, kur tika atrasti
aluviālie
kimberlītu minerāli, 6 - iespējamās zonas, kuras atspoguļo kimberlītu minerālu driftu, 7 - iespējamo kimberlītu izplatības reģioni, 8 - kimberlītu minerālu zonu indikācijas: I - Ziemeļkurzeme, II - Rīgas jūras līcis, III - Ziemeļvidzeme, 9 - glaciālā drifta virzieni, 10 - kimberlītu minerālu pārvietošanas Ketleru baseinā virzieni, 11 - kimberlītu minerālu pārvietošanās pa upēm un piekrastes straumēm Ogres baseinā, 12 - Ketleru depozītu izplatības ziemeļu robeža.
Urāns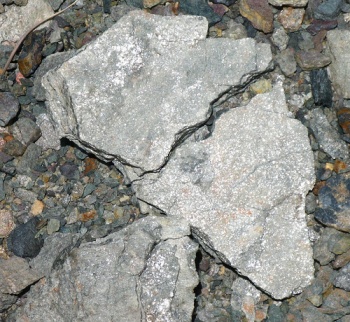 "Izrādās, ka Latvijas zeme sevī slēpj arī kādu visai bīstamu izrakteni. Ziemeļkurzemē vairākās vietās un dažādos iežos ir atklāts radioaktīvais izotops — urāns. Dažās vietās tas atrodams pavisam tuvu zemes virskārtai — zināmas vietas, kur urāns ir 1–2 metru dziļumā, bet pie Rojas tas konstatēts pašā tās virskārtā. Tiesa gan, arī šā izrakteņa teorētiskais daudzums neļauj domāt par tā rūpniecisku iegūšanu un atomvalsts statusu. Tomēr tas var radīt veselības problēmas iedzīvotājiem, kuri regulāri lieto cauri urānu saturošajiem iežiem tekošu dzeramo ūdeni. Vislielākā urāna izraisītā radiācija atklāta kādā Balvu rajona karjerā — 184 mikrorentgeni stundā. Normāls radiācijas fons ir 18 mikrorentgeni."
uz rakstu sarakstu
Par HC.LV
HC.LV lietotājiem
Seko jaunumiem
HC.LV valodas
Citas saites
Padalies priekā
Thanks extremely practical. Will certainly share website with my buddies. my web site - SEO Ottawa (https://www.youtube.com/watch?v=k1JkxvvlAu0)
Fernando
Merely wanted to say I am just glad I came on your web site. Stop by my weblog; %anchor_text (https://www.youtube.com/watch?v=UaO3mkXckUo)
Brigida
You're a really practical web site; couldn't make it without ya! Also visit my blog: скачать disciples 3 renaissance (https://disciples-games.com/download/disciples-3-renaissance)
Agnes