Latvijā rada unikālu, energoefektīvu tehnoloģiju sakaru līniju īpašniekiem un operatoriem
Nadina Erdmane, 30.12.2015., 16:04
SIA "Affoc Solutions" izstrādā universālu, energoefektīvu sakaru sistēmas tehnoloģiju jeb ESST, kas ir energoefektīvs šķiedru optiskās pārraides sistēmas (ŠOPS) modelis un tehnoloģisko risinājumu kopums, nodrošinot sakaru līnijas darbību ar būtiski zemāku elektroenerģijas patēriņu.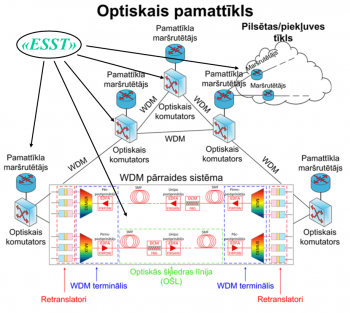 Inovatīvajam risinājumam ir potenciāls kļūt par Latvijas eksporta preci.
SIA "Affoc Solutions" īpašnieks Mareks Parfjonovs sadarbībā ar Rīgas Tehniskās universitātes (RTU) Telekomunikāciju institūtu izstrādā ESST tehnoloģiju, kura būs risinājuma kopums, kas sastāv no algoritmiem un iekārtām. Ar jauno iekārtu būs iespējams novērtēt klienta esošās ŠOPS un iekārtu infrastruktūras energoefektivitāti (enerģijas patēriņu) un sniegt klientam informāciju, ko uzlabot, kā uzlabot un arī veikt nepieciešamo investīciju aprēķinus, to atmaksas plānu un izkristalizēt būtiskākos ieguvumus. Izstrādājot energoefektīvo prototipu, klients, kurš savu jaunu sakaru sistēmas posmu būvēs no nulles, jau uzreiz varēs izmantot piedāvāto, visefektīvāko risinājumu, kas būs atspoguļots prototipa parametros.
"Šī tehnoloģija – ideja radās kopā ar RTU, jo līdz šim Affoc Solutions veica ŠOPS infrastruktūras novērtējumu ar citu, arī manis un RTU kopdarbā radušos iekārtu "AFF ŠOPS 2014", ar kuru šogad startēju "Eksporta un Inovācijas" balvai. Ar to mērīju izbūvētās līnijas zudumus, garumu, hromatiskās un polarizācijas modu dispersijas. Šie mērījumi ir nepieciešami, lai pasūtītājs saņemtu protokolu par to, kā līnija ir uzbūvēta un kā tā strādās. Šī procesa ietvaros pamanīju tādu lauciņu kā energoefektivitāti, savukārt RTU, ETF (Elektronikas un Telekomunikāciju fakultāte), TI (Telekomunikāciju institūts) jau sen nodarbojas ar dažādām sakaru sistēmām un to tehnoloģiju attīstību un pētījumiem. Apsēžoties kopā arī tapa ideja par šo projektu," stāsta SIA "Affoc Solutions" īpašnieks un projekta attīstītājs Mareks Parfjonovs.
Ar šo tehnoloģiju varēs mērīt ne tikai tās sakaru sistēmas, kuras mēs saprotam ar datu pārraidi, bet arī tās iekārtas, kuras funkcionē līdzīgi, piemēram, sūta signālus un kuras nav tieši saistītas ar sakaru pārraidi, bet ir, piemēram, monitorings vai analītiskās sistēmas, kuras funkcionē līdzīgi, bet pilda citus uzdevumus.
"Šobrīd ir izanalizēti sakaru līniju dati. Datu analīze apstiprina, ka elektroenerģijas patēriņu iespējams ietaupīt. Jauda, kas pašreiz ir vajadzīga vienai sakaru sistēmai ("tornis – kabelis – tornis") ir vidēji 65 kilovatstundas (kWh). Provizoriski – plānotais samazinājums ir ap 30%, bet tas vēl turpmākās izpētes gaitā var mainīties un diferencēties," uzsver Parfjonovs.
Paralēli projekta attīstīšanai laboratorijā, RTU un SIA "Affoc Solutions" izstrādājuši maketu, un ir pabeigta tā testēšana un turpmāk notiks tā aprobēšana ar algoritmu un datu pielāgošana. Projekts tiek attīstīts ar Zaļā tehnoloģiju inkubatora atbalstu.
"Zaļo tehnoloģiju inkubators" darbojas sadarbībā ar Ekonomikas ministrijas, Latvijas Investīciju un attīstības aģentūras, Norvēģijas Inovāciju aģentūras un Norvēģijas valsts industriālās attīstības korporācijas (SIVA) nodibinātā SIA "Green Industry Innovation Center" atbalstu, kas darbojas Latvijas Universitātes, Rīgas Tehniskās universitātes un Norvēģijas valsts industriālās attīstības korporācijas paspārnē.
"Projekts "Zaļo tehnoloģiju inkubators" (Līg.nr. DL-2014/9) tiek atbalstīts Norvēģijas finanšu instrumenta programmas "Inovācijas "zaļās" ražošanas jomā" ietvaros."
uz ziņu sarakstu
Par HC.LV
HC.LV lietotājiem
Seko jaunumiem
HC.LV valodas
Citas saites
Aktualitātes forumā
Padalies priekā
Perfectly composed subject matter, Really enjoyed looking through. Have a look at my website ... 카지노사이트 (https://onlinecasinositelive.com)
Starla
Hey there, cool online site you've gotten in here. Stop by my site 온라인카지노사이트 (https://joinlive77.com)
Eileen
You've got terrific information on this web-site. Review my web site; slotxo (https://slotxo.com/)
Willian